Live Reviews
Diamond Pavers has been designing and installing numerous paver structures and outdoor living projects throughout Hayward, CA, for many years now. From concept to completion, we thrive to work with our clients in order to create distinct, high-quality outdoor spaces that fit their home, lifestyle and vision, all while offering our services at fair and affordable prices.
Feel free to call us today to discuss your next hardscaping, landscaping or home improvement project. Below you can see just some of our testimonials and reviews from our highly satisfied customers.



Testimonials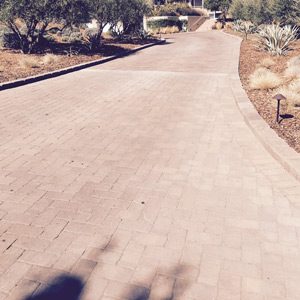 I had an ugly asphalt driveway. Finally decided to replace them with pavers. Got an estimate but decided to call Diamond Pavers after seeing them on Yelp. Met Jose and he gave me a quote and helped me select something that would match my existing pavers.
I am so happy that I found Diamond Pavers. Jose was very professional and easy to work with. His guys worked really hard to make my driveway so beautiful! Thank you Diamond Pavers!
Tanya H.
Los Altos Hills, CA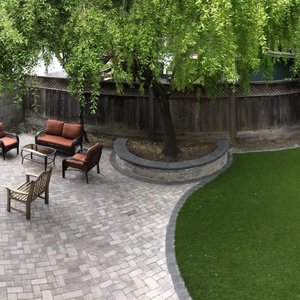 This was our second project with Diamond Pavers -- Jose and his crew knocked it out of the park with this transformation. We wanted to be able to spend more time in our backyard; we had was peaceful, but not very inviting space -- lots of flower garden area, lots of dirt, and a huge amount of decaying woodchips and leaves.
I proposed a simple plan -- half pavers and half turf with a sitting wall, using a herringbone pattern. Jose made recommendations on materials and overall design to make the space more appealing -- like curving the paver/turf border.
The project spanned 7 days (estimated as 8). The crew of 4 showed up promptly at 7:30 every morning until 3pm -- Jose (the owner/lead) was here most of the time to make sure work was being done right and went above and beyond to help fix and reroute some irrigation. They cleaned up the site before leaving, and the neighbors commented on how respectful they were with not making too much noise or making a mess.
2 of the 3 guys on his crew had worked on my previous project seven years ago, which speaks volumes about how Jose is running a good operation and treats his team well.
I highly recommend Diamond Pavers for your paving and ancillary needs (turf, retaining walls, platform decks).
Ray H.
Oakland, CA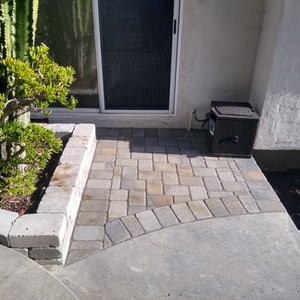 Jose and his team did a great job and even built a new door as part of the project. Multi-talented. The work was done well and timely. Diamond Pavers also had a very competitive bid. Would recommend!
Frank Y.
San Leandro, CA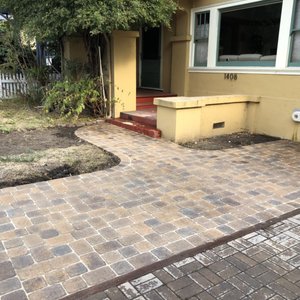 We contacted Diamond Pavers a couple of weeks ago, with a smallish driveway/path project, and their bid was in line with what we expected.
A few other companies refused it because it was too small. They were able to start work surprisingly fast; others gave us dates as far out as November. Jose and his 2 workers did an amazing job.It was obvious that all 3 had a really good working relationship, and communicated well. They had a large bin for the earth removal delivered to our house, as well as a porta-potty, which really impressed me with their professionalism. Our yard has a grade to it, and they managed to get that pad set perfectly. They put so much work into the curves we had in the design, I even saw them remove pieces and do them again. This was no rush job, and these guys really, really worked. We let them store their equipment in the yard, and they kept it all neat and tidy every day before they left. I have had some awful experiences having people come do work for us in the past. This was the total opposite of that. They took pride in their work and did a beautiful job for us. Thanks Josť. You guys are the best.
Christopher R.
Berkeley, CA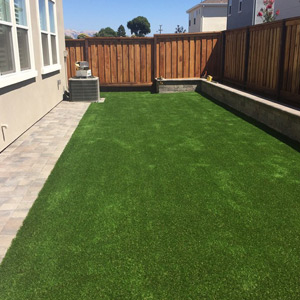 We called Jose to give us a quote for our backyard. He was very quick to respond, and with a competitive price we went with Diamond Pavers. The job was completed quickly and looks absolutely amazing. Jose and his crew are very friendly and took great care of our property not only during but after the project was completed. We opted to use pavers for our patio and planter box. Then we decided on a synthetic grass for the rest of the yard for our son. We are so happy with the finished product. I would highly recommend Jose.
Krystal K.
San Jose, CA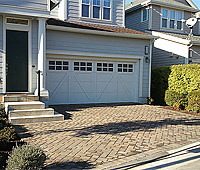 We contacted Jose of Diamond Paving a month ago. He came to our home right away, showed us what was possible for our driveway and followed up with many sample pavers. Jose was readily available by email or phone throughout our decision process. The work started promptly with a hard-working and respectful crew. Jose and the crew made sure that every stage of the job was completed with care and that the area was cleaned up at the end of the work day. No disappointments with us, as everything exceeded our expectations.
Mitchell & Maggie
Richmond, CA
Diamond Paving removed a 60-year-old concrete from our entrance walkway area. Graded area, overlay our front porch and stairs, designed patio and new stairs using our choice of pavers and installed the pavers very fast.
We recommend Diamond Paving to everyone.
Mike & Debbie, Hayward, CA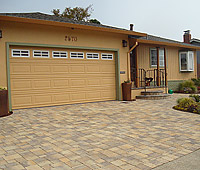 Jose with Diamond Paving gave us a bid for our driveway. Jose was very helpful, answered all our questions and brought us sample pavers, so that, combined with excellent testimonials here, gave Diamond the job. Jose Argueta is the point man and Construction Manager for Diamond Paving.
The job was completed over about 6 working days, and Jose was on site a good portion of the time to inspect the work. They demolished a concrete driveway, removed the old steps and build new ones with Bullnose. We have nothing but praise for his responsiveness and professionalism during this whole process.
Deb, San Bruno, CA
Review for Diamond Pavers - July 2010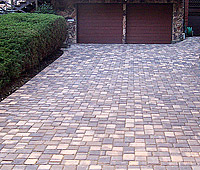 This past June, Jose Argueta and his crew from Diamond Pavers completed an outstanding job at my home. They not only laid pavers for my driveway, walkways and retaining wall, but repaired the concrete in my garage and applied epoxy, AND planted over 90 plants and shrubs. This was all done with great attention to detail, the project was completed right on time, and the price was great!
To be perfectly honest. I have never worked with a vendor that provided such excellent service (and I have worked with a lot of vendors). Throughout the process, Jose was diligent in following through with everything agreed to in our contract and more. What was really amazing was his thoughtfulness and attention to detail. Jose worked with his crew to provide the little extra touches that made the front of my home look outstanding. I have gotten so many compliments from neighbors and visitors. I owe it all to Jose and his crew.
So, if you want excellent service that is provided on time and at a great price, Jose Argueta and his crew at Diamond Pavers is the way to go.
D. Hansel, Berkeley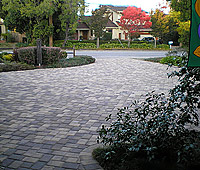 Hi Jose,
I have enjoyed my new driveway and so have my neighbors and friends. The job was completed as scheduled and follow-up was a bonus. I would gladly recommend Diamond Pavers to everyone!
Helen Lomas, San Carlos.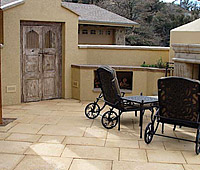 Jose was our contact and he was fantastic. This is the kind of service we would all like to have when dealing with a company. He always did what he said he was going to do, he was patient as we chose the pavers and design, he showed up for every appointment on time and he was extremely accommodating. If we wanted to change something he was very amenable. We had 7 estimates and researched all kinds of ways to deal with our cracked, two-level and old concrete patio. His detailed estimate amazed us and he convinced us that our severe drainage problem could be fixed using his method. We were very worried about this aspect of the job, as water has pooled there for years, in spite of various efforts to fix it. Not only does it now look fabulous, but this winter we have had our first rains (2-3 inches!) and there is not a drop of water pooling on the patio. We are very, very pleased with the work he did for us and definitely recommend Diamond Pavers
Cynthia, Tiburon.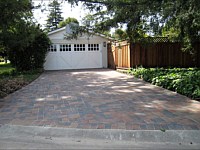 I called the company and scheduled an appointment, Jose came over to bid for the job & scheduled the start date for a Monday. The guys were really quick. We were told that they would be done on Saturday, but really they were 95% done by Thursday. It would have been helpful to speak Spanish to the workers, but not necessary. Jose did a great job leading the project, including drawing a picture for me to verify before any work was done. The job went very smoothly and I am pleased.
Amy, Los Altos