Landscape Products
Country Cottage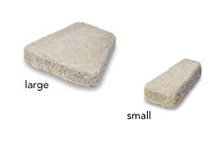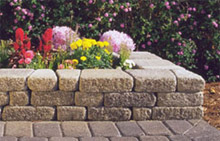 OVERVIEW
Whether for a castle or home ... graceful curves, monumental corners and terraced walls are all part of the charm of Country CottageT by Keystone. Random and rugged, yet blended with color and character, these high-strength concrete modules appear as natural stone. Assembly of the varying length Country Cottage units will result in a random layout, with the texture, color and appearance of an old world stone wall.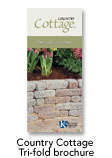 SPECIFICATIONS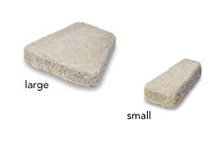 | | | |
| --- | --- | --- |
| | large unit | small unit |
| height | 3" | 3" |
| widths | 9/11" | 4/6" |
| depth | 10" | 10" |
| weight | 22lbs | 12lbs |
Product size, weight, color and product availability varies by location. Please contact your local manufacturer for up-to-date product information.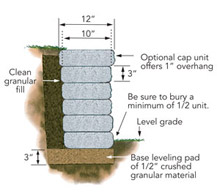 NOTES:
Maximum wall height not to exceed 18"
Use clean granular backfills such as gravel or crushed stone for drainage and to prevent soil from leaching through the wall.
A commercial filter fabric (stocked by most garden supply stores) may be used when existing site soils are used for backfill.
ESTIMATING
Use this guide for estimating the number of Country Cottage units required. The following figures are estimates based on using 50% large and 50% small units. Quantities will vary with different wall layout configurations.
WALL HEIGHT
WALL LENGTH (measured at wall face including curves)
5'
10'
15'
20'
3" (1 course)
4L/4S
8L/8S
12L/12S
16L/16S
6" (2 courses)
8L/8S
16L/16S
24L/24S
32L/32S
9" (3 courses)
12L/12S
24L/24S
36L/36S
48L/48S
12" (4 courses)
16L/16S
32L/32S
48L/48S
64L/64S
15" (5 courses)
20L/20S
40L/40S
60L/60S
80L/80S
18" (6 courses)
24L/24S
48L/48S
72L/72S
96L/96S
L = LARGE UNIT Average face area: 10" x 3" = 30 inch (squared)
S = SMALL UNIT Average face area: 5" x 3" = 15 inch (squared)
This chart is based on site conditions which include: a level grade above and below the wall, granular soil and no surcharge/loads above the wall. Maximum exposed wall height not to exceed 18"
INSTALLATION
Prepare Base Leveling Pad
Install the First Course
Start by digging a shallow trench 6" deep by 12" wide. Cut through and remove any sod, roots or large rocks. Add 2-3 inches of crushed stone for a leveling pad. (Do not use sand or pea gravel.) Tamp or compact the leveling pad prior to placing the first course of Country Cottage. You will need to partially bury the base course 2-4 inches below the finish grade.
Place the first course of Country Cottage units end to end (with front corners touching). Make sure each unit is level - side to side and front to back. Leveling the first course is critical for accurate and acceptable results. Complete the base course before proceeding to the second course.
TIPS:


Unit joints should be bridged by the units above. Some unit repetition is unavoidable.
Use clean granular backfills 4" behind the wall for drainage.
A filter fabric may be used to prevent soil from leaching through the wall.

Install Additional Courses
Starting with straight areas first, begin placing the second course. Build the wall up, randomly utilizing the various unit shapes. Try to avoid a repetition of the same unit size frequency along a horizontal line. (Some unit repetition is unavoidable.)

Click on the images below to view a larger display.


Photo 1

Photo 2

Photo 3

Photo 4

Photo 5

Photo 6

Photo 7

Photo 8

Photo 9